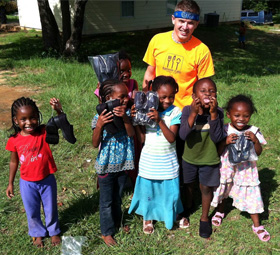 Matt Armbruster
For several years, Matt and his wife Tara have been essentially living on faith in Alabama.
Matt felt led to open up the Ransom Cafe and not charge for the food, but let people donate what they could. If you were broke and/or out of work, you could come in, eat for free. The Armbrusters are strong believers in a "hand up" not a "hand out" and have had many learn some kitchen experience in his kitchen. 

The food that Matt serves comes largely from food donations, or discounted groceries from cash donations. It's not quite in the hundreds yet, as he's only been open a few years, but he's helped a LOT of people that were unskilled and out of work learn a skill and find work. He and his wife Tara and many volunteers have helped to feed countless thousands of working class poor, as well as the unemployed.