Microwave Popcorn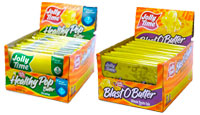 Capture Impulse Sales

The same great-tasting microwave popcorn that made JOLLY TIME® a household name is also available in institutional and food service bulk packages!

JOLLY TIME®Microwave Pop Corn is available in a variety of package options. Microwave popcorn's popularity stems from its great taste and easy, convenient and consistent pop. The familiar JOLLY TIME® name is a great addition to your growing business.

Our perfect packaging helps encourage impulse sales. With full-color graphics and chipboard construction, our dispensers are perfect for a variety of uses. The innovative design allows for countertop displays and individual pack sales.

We would love to hear from you and are ready to supply you with the right microwave product for your business! For full details, or for help selecting the perfect microwave popcorn to meet your needs, contact us!